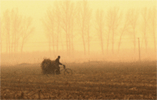 CHINESE WHISPERS

Xiaolu Guo on the voices of a changing country
This year's Doc/Fest in Sheffield, which I caught the tail end of at the weekend, had a great selection of films on show.

[...]

For me, though, the real star was Once Upon a Time Proletarian, by the Chinese novelist and director Xiaolu Guo. It consists of interviews with twelve people drawn from across Chinese society: from an ageing peasant who longs for the days of Mao, to frustrated small-town teenagers, to rich Beijing businessmen. Filmed in spare moments during the shooting of Guo's forthcoming fiction film, She, a Chinese (which I wrote about here), it has a wonderful spontaneity that captures a fleeting moment in China's history.

Below, taken from the Q+A session that followed the screening - and abridged by me - Guo explains what her film has to say about modern China.

"I wanted to make a group portrait presenting the different social classes in China that have arisen over the last twenty years. China used to be a very simple society: before Communism it was made up of peasants or slaves and the emperor system. From the 1950s onwards the whole country changed, but it was still a simple social structure: soldiers, workers and peasants.

Now China is in this period of radical change, where people are losing their identities, losing faith in both traditional and socialist values. There's a new middle class, millionaires, even billionaires. People who used to have a peasant identity, who spent their lives planting rice, now have to work in factories making computer parts.

[The film] shows a kind of collective melancholy. This whole country has lost its old values and we were never a religious country, so now everyone has to force themselves to be civilised.

I don't trust objective narrative. For me the truth is subjective and emotional. I don't want to know people's life stories, all I want to know is that moment when they look at the camera. It's very powerful but it's over so quickly.
Daniel Trilling
New Statesman, 10 November 09