UFO IN HER EYES - FILMING DIARY

THE LANDSCAPE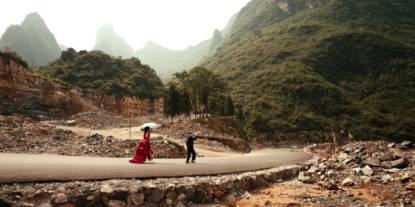 I think for a literature or a film to be great and solid, it has to belong to a very specific landscape in the first place. It's like 'Master and Margerita' was born and bred in the heavy Russian-Soviet land where searching for spirituality was the profound preoccupation of artists, while Felini's cinema is rooted in the often grim postwar Italian world of the 50s and 60s where daily living provided the most dramatic narratives. Often I think I am not able to write a story when I don't know what the surrounding politics are and the textures of the landscapes. I don't think you can just transplant a character from one landscape into another.
In the case of UFO IN HER EYES, it is clear it should be set in a southern Chinese agriculture landscape, but not the cold and dry industrial north. It should be the wet rice paddies and winding mountains paths. There should be buffalos everywhere but not mining sites. There should be an old village community but not a young migrant industry. Some people think the south China landscape is too soft, too green, too classical. But I see this classical nature as the strong element that binds together barbarism and tradition. So it is clearly not the North Plain of China where the railways scar the flat immense land, where locals can always escape by riding on horseback across the plains.
Since I came from the south, a wet and hilly province, I have seen how the road workers tried to dig tunnels under the mountains for buses to reach remote villages. I have seen the efforts to achieve modernization are almost greater and more desperate than in the cities of the Plains. Yes, how could Carp Li's crab and shrimps have swam all the way to France? How? They must have gone through those mountain tunnels with their desperate curiosity. Those shrimps are Columbus.
OUR TREE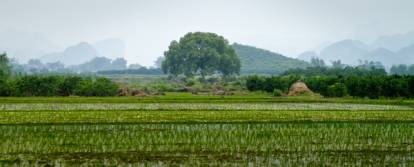 Our original idea was to find an enormous tree standing in a vast and un-ruined landscape. We called it the Tarkovsky tree. Our Tarkovsky tree was a banyan tree. Somehow an old banyan represents the Buddhism tradition and hints at a kind of Chinese morality – which contrasts with how Kwok Yun conducts her love affair under that tree.
But where on earth in this chaotic, ever-changing China could we find a lone tree in a solitary landscape? It's not like in Siberia where nature still retains its original shape – here the messy new houses and cranes erected as far as eyes can see, even in the most remote land. As Chairman Mao said: man changes and conquers nature.
In my novel, I called the tree A Hundred Arm Tree. I was imagining a lordly ancient tree with lush branches and roots, which had lived through a century or two. But reality is usually mean with a bitter taste – one only finds truly old Chinese trees fenced in the People's Park if they haven't already been chopped down. Day after day, on a bus through many bumping mountain paths, we couldn't find that wise, wild, wizened tree,
Only the mountain stood there unchanged, as if it had stood there from the Ice Age. But even the mountain was shrinking as the days went by. The mountains were being cut up and demolished by construction companies to make sand and cement. In the end, only two days before shooting, we chose a tree standing in a watery rice field, surrounded by some grave yards. It was a camphor tree, or to use its Latin classification: cinnamomum camphora. Sitting underneath it, one felt the spirit of the roots, the solemnity of its trunk. Later, during the shooting, me and my cinematographer were the objects of many a curse from our poor crew and overburdened runners, as they spent all day carrying complicated jigsaw bits of cranes and dolly tracks, and great lighting dishes, their legs wading through deep mud. There was absolutely no road to get to our famous tree. But the show had to go on, and nature, needs to be dressed up and manicured if you want her to really perform.
EARTHWORMS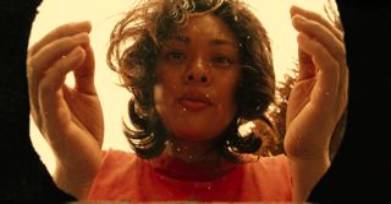 I wrote some monologues for Kwok Yun, in which she sees her body as an earthworm's. When she has a period the blood oozes through her like the pumping fluids in a worm buried in the earth. Such is a woman's strange experience towards her own body.
In 50s' and 60s' China, every natural being was classified by the state according to its goodness and badness. For example sparrows were 'bad birds', because of their greedy habit of eating grain. I was taught in my primary school that earthworms were "good worms" as they soften the soil to help our crops grow deeper. But in Kwok Yun's case, she only relates her obscurity, her nameless being to the earthworms. And she does not think she is a useful worm: she has no place in the soil of society. She is an individual without individuality in a collective mass state. She deeply feels her obscurity, her unnoticed being, her absolute anonymity. She is a big ANON, until the day she claims to have encountered a UFO.
Another thing about earthworms is that they can reproduce their lost segments, after physical damage – when they lose a tail or head from a digger's axe. From my point of view, most Chinese people, especially the lower and elder people, have survived through all sorts of tragedies. For better or worse, like an earthworm, they try to adjust and reform their life style according to the new social order – despite the great damage that has scared them, emotionally and physically.
CHIEF CHANG FACTOR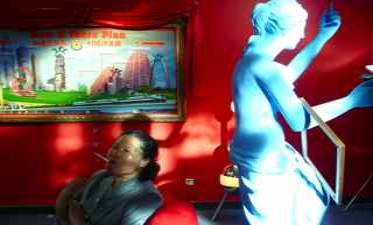 Chief Chang actress – Zhang Liqiu, is such a great person to work with. Before I met her, I tried to sketch a face - some old lady with a severe tough looking to represent the country's totalitarism. I also thought she should be a female version of Mao Zedong. But somehow, when I imagined her, my mother's face appeared in front of me, as well as my mother's manner - rude, peasant, violent, mean and determined.
My mother's generation, born in 1949 under the revolutionary flag that flew above Tian-an-men Square were often thrown into the ranks of the red guards in the 70s. I kept thinking of casting my mother as the chief of Three-headed Bird village, but my mother could only act herself, and she is politically indifferent nowadays. I imagined she would refuse to speak those outrageous lines that the Chief character has to spout. Then eventually came this great face in Shanghai– more convincing than any others, which still harbored a sincere and kindly look. "Acting is a way of playing with life," Zhang said to me. Her hair is salt and pepper strands, and she volunteered to chain smoke in the film. She was our joy during the shooting. Her political views are rather open and honest, I think her age and her past have removed the vanity and the fear that an actress normally holds.
UDO THE UFO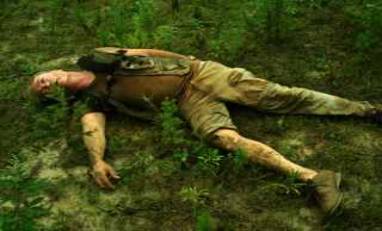 Who cares if an American speaks with a German, Nazi-style accent? I don't care even though I am the director of this film. I guess Americans wouldn't care since they've got their governor Arnold Schwartzenegger. It was some German who asked me why our American mayor character reminded him of his old military uncle Rudy. I said—Isn't it obvious! Do you expect he should speak with a Russian drawl or the accent of a Bombay taxi driver?
We had our man: Udo! He bravely flew altogether 37 hours from his Hollywood Beverly Hills mansion to our muddy and swampy location. When he arrived, he was totally wiped out and had lost his expensive Mac book in the airport. One of his icy blue eyes looked more like the wrong side of a pink grapefruit—an injury from one of the fierce local mosquitoes. There was only one thing to do: throw him in at the deep end. Four hours after getting off the plane he was in mud up to his well-toned thighs, with a certain frantic look in his eye—perfect for the mood I wanted. For the first days of shooting, he couldn't breathe in the heat, especially after I told him how difficult it was to be gay in this country. Directors can be so sadistic. I said his contract was only for three days of torture, but then he wanted two days more. What a pro!
Udo was a real alien to us and especially to the villagers. I promised him while he was flying over everyone in the helicopter that I would make him a General for my next film, someone like General Patton: a Germanic version of George C. Scott. He then said: 'You are ReeAl crazy Shauooolou, you're the Chinese Las Von Trier. Do you wanna make a Wampire Moovie with me? I gotta greaaat location in mein East Cherman estate!'
TWO OLD MEN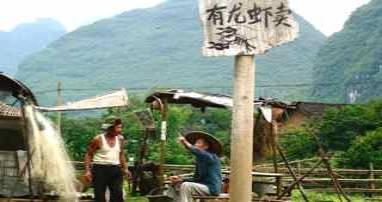 The character of Carp Li is a tragic one. It was not easy to find the man to realize him in any village of the area. I wanted to find a non-professional. A real old fisherman with a tragic face. But every old man I approached had no desire to be a man who commits suicide by drowning. That would be tempting fate too much. In China one can encounter the sad old faces here and there without any effort but would those faces embody the dramatic narrative quality necessary for a fiction film? Also, I needed him to be very old, something like 75 or 85. One day we were bored and stood by the green and winding Li river of Yang Shuo, a very old man came and asked us if we wanted to take a boat. His face was wrinkled like a dried winter orange and his eyes were sorrowful, his voice husky and his dialect incomprehensible. I said to myself: there he is! Our Carp Li, as real and raw as the old man in my imagination. A wonderful beginning. But from then on it became a nightmare for my casting director Wu. It fell upon Wu to train the old fisherman to understand how to deliver three lines according to our script, and not according to his mood on the day. But despite all Wu's lengthy rehearsal hours with him, we had to bow to the undeniable reality that we could not mold him to our purposes. We just had to let him be what he was. Reality defeats fiction.
Old Kwok, Li Dou, was another case. He's a veteran Shanghai actor. The day when he came to our hotel lobby to do the audition, he squatted on the floor and cursed all things under the sun like a proper old peasant bitching about the whole world. I was surprised that an old Shanghainese could come up with such a rude manner and natural anger. But maybe I should not have been so surprised. His generation, even the people of the cities, know well the ways of peasants whose transformation has had such historical importance to us. He had soaked in the body language and forms of speech through a natural osmosis. There he was, a historical symbol of what we Chinese were.
THE RIOT REHEARSAL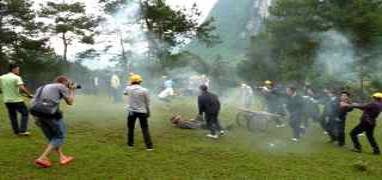 To do a rehearsal for a riot scene with real peasants on their land was a strange and challenging thing. Generally I fear rehearsals. I fear that the spontaneous energy and genuine emotion from the actors will get used up so that what's left for the real shooting is tired and no longer captures that energy I seek. But I felt that this rehearsal had to be done because the scene needed hundreds of people, swirling about in confrontation with police and construction workers on their land.
I had watched again the peasant rebellion scene in Bertolucci's "1900". Although a very stagey performance, I liked its backdrop of vast vibrant mountains. For me, the mountains have a honest history etched across their faces. During our rehearsal, we had about 100 local peasants, who had no idea what being filmed was like and indeed what filming was. Continuity meant nothing to them, despite our explanations. Everyone was laughing and playing up like hyenas, and there were always several villagers feeling hungry and desperately wanting to go home to eat. Although the lunch boxes were served on the set, this would never satisfy people who wanted their roasted, spicy pork rib with pickled seaweed on the side.
The riot scene was meant to be one of the most important scenes in our film, the climax of story lines binding together personal tragedy and collective fate. Our reality in China is this contradiction: as much as the peasants want to forever belong to their land, they also at the same time indifferent towards what's around them in the greater world, which threatens their life on the land. I think their failure to combat the industrial forces swallowing them was sadly obvious from the beginning. This indifference and passivity, does not, I think, come from their Buddhist and Confucian traditions, but was an infection brought on by the great illusion of Chinese revolution, especially the brutal nature of the Cultural Revolution from the 60s on. At the end of the day, who would trust politics if they had been dragged through the dark turmoil that ideological forces gave birth to.
BETWEEN STILLNESS & MOVEMENT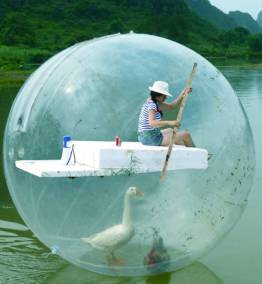 For me, to escape from a static life as a writer and to enter the flux of filmmaking is a way of feeling alive in my body. As a writer I have been struggling with a sense of stifling stillness, an almost physical condition, since I was young. There was a riot of ideas in my head. But the more that this riot grew in its craziness and energy, the more the world around me seemed to be grey and banal, without any meaning I could pin myself to. Reality seems only stronger than fiction when you are not an artist: the art itself blocks the artist's entering the world. The daily tedious labor before a desk, talking to oneself, is the most anti-social behavior a human can engage in: one feeds only on words and ideas.
The joyless and motionless physicality of a writer, makes me eager to leave my prison desk, and set off to the filming locations, even if there is no budget. On location, the imagination meets reality and adapts itself to it, and then both are recreated. When that happens, I feel alive through the body's movement through a social landscape. And the body forgets the mental distortions that once plagued it, and regains its own dignity.
MICHAL THAT EYE IN THE SKY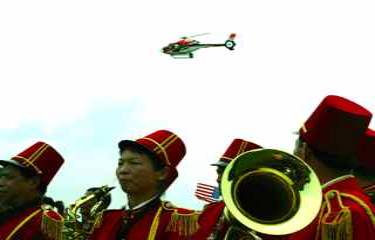 To have a right cinematographer is like to have a suitable husband – passion is not the first quality but the mutual understanding and loyalty to the project counts. Often I find some young camera men only work for their images and neglect what belongs to the film. In Michal's case, he has managed to embed himself into the film, rather than rest on his own personal liking or taste. Although sometimes he can be moody, I suppose it is natural if he comes from Poland? And some say I am even more moody than him because my ancestors were Mongols, perhaps.
But as with any other cinematographer, the most happy day for Michal is when we have these very expensive huge cranes, manned by a bunch of guys pushing the whole contraption along rails on the ground, and Michal is alone high in the sky, up with the top branches of a tree or floating over a rice field. I am sure he feels like some kind of aviator with a giant eye. I am down below shouting out a few pathetic suggestions, I am sure my words are like distant bird sounds. I have to wait for what images he brings back to earth. They are usually breath-taking images, unless he's still suffering from his polish hangover.
To translate the products of the imagination from literature to cinema, is such a physical and geographical effort. I am often impressed by the power and identity of images, and how that reshapes and reinstalls our memory through a reconstruction of reality: a sculpturing in time, in an ever-changing landscape, in our limitless and often dangerous imagination.
All rights reserved - Xiaolu Guo / Corazon International 2011
© 2004 - 2011 Guo Xiaolu